Artists make the world a better place.
Our mission
is to make the world a better place for artists.
Upcoming Shows:
TeenyFest
Gianmarco Soresi
Steel City Arts Foundation (better known as Steel City AF) is a live/work/play environment for comedians in Pittsburgh, Pennsylvania.
Steel City AF consists of many parts. There is a detached 3-bedroom home that houses comedians for 9 months at a time, on a rotating basis, free of charge. There are bays of computers where comedians can write, design, and edit. There is a home gym and a comedy library for the comedians (see what's in our library here). The main building will be used to house occasional guest comedians and artists passing through town. The lower level is split into two: a podcast/recording studio and a digital showroom with broadcasting capabilities that can be used for open mics and digital shows (or a combination of the two). And, if zoning allows, the chapel will be a state-of-the-art showroom and events center that can host performances, lectures, food halls, art shows, or even be used to film movies and TV.
When Martin Hofstetter died in 2014, his son Steve created the Martin Foundation in his name. The goal was to help up-and-coming comedians come up a bit quicker. The foundation provided grants to comedians to help with rent, car payments, and other bills so they could quit their day jobs and concentrate on their art full time. When COVID destroyed every comedian's ability to tour, the foundation changed the grant system – and was able to provide $1,000 grants to 30 comedians to help cover some of their expenses. In addition, the Social Distancing Social Club provided over $50,000 more in work for otherwise unemployed comedians. And now, Steel City AF takes that to a whole new level.
Why Pittsburgh? With a burgeoning arts scene and low cost of living, Pittsburgh has one of the highest happiness indexes in the midwest or northeast. Pittsburgh is within a six-hour drive of 18 other comedy markets, and a short flight from more than half the population of the US and Canada. Pittsburgh is a lot like the average stand-up comedian: Gritty, full of heart, and constantly underestimated.
It is our goal to foster growth in the local comedy and arts scenes, bring national and international talent to Pittsburgh, create local jobs, and honor the history of these fantastic buildings.
Stand-up comedians can now apply for A residency!
Nine-month residencies are in the Martin House, the 3BR detached house next to the main building. Residents will also have access to the communal space in the main building, including the gym, editing bays, digital broadcast equipment, podcasting equipment, and more.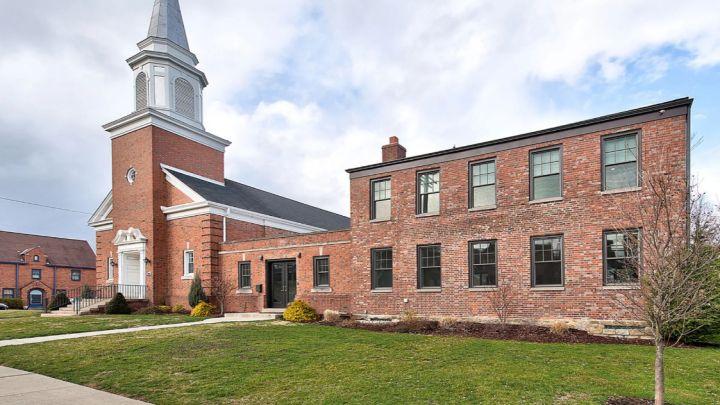 To Make donations to the Steel City Arts Foundation: